TS-HG PLANT
improves the soil´s water regime
PRODUCTS CHARACTERICTICS:
TS HG Plant is mainly intended for planting and transplanting plants, where there is a danger of short-term droughts and where we want to improve the soil structure and its water regime. The presence of humic substances supplies the plants with the necessary energy. The presence of substances against stress and an extract of seaweed reduces the potential negative environmental effects, particularly in cases of short-term droughts or significant fluctuations in temperature and rainfall.
CHEMICAL AND PHYSICAL CHARACTERISTICS:
| | |
| --- | --- |
| Dry matter v % min. | 90 |
| Flammable substances in dry matter in % min. | 50 |
| Humic substances in % min. | 10 |
TS HG Plant also comprises of hygroscopic substances of a natural origin, and further contains adoptogenic substances and ingredients enabling a better plant´s earth bounding. The preparation supports the earth bounding and the plant´s growth even in adverse environmental conditions, particularly during short-term droughts. The included hydrogel holds up to 200 ml water per 1g of the preparation.
RECOMMENDED DOSAGE:
For small plants (plant tubs, small seedlings, vegetable seedlings and grape vine seedlings) ca. 1 up to 1,5 g of the preparation per seedling. In the case of forest plantations vulnerable to short-term droughts use ca 2 g per seedling. In the event of broadcast sowing 0,1 to 1g / m2.
RECOMMENDED APPLICATION:
The application is being performed by admixing the preparation into the soil of the planted plant. For bare root seedlings kept in a water bath - after the removal from the water, put them shortly into the TS HG Plant preparation, a necessary amount of the preparation will stick to the wet roots, then plant them immediately afterwards.
EFFECTS:
improves the soil´s water regime by fixating large amounts of water,
improves the soil aeration,
improves the rooting of plants and the formation of the root system,
helps to overcome stresses.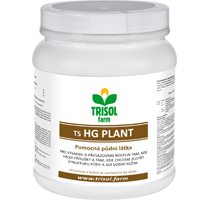 ---