TS IMPULS
for a strong root and regeneration
PRODUCTS CHARACTERICTICS:
TS IMPULS is designed primarily to support the growth of seedlings of field crops, forest plantations and special crops. It supports the development of the primary root and the formation of fine root hair and thereby increases the intake of moisture and nutrients. The preparation regenerates the vegetation after chemical, biological, or mechanical damages; it restores the plant´s tissue, increases the rate of photosynthesis and supports the adaptation to stressful stimuli.
CHEMICAL AND PHYSICAL CHARACTERISTICS:
| | |
| --- | --- |
| Dry matter v % min. | 20 |
| Flammable substances in dry matter in % min. | 50 |
| Humic substances and their salts (chemical compound) in % min. | 12,5 |
| Amino acids in % min. | 10 |
| PH - value | 8-10 |
TS IMPULS also contains adaptogenes, a mixture of synthetic auxins to stimulate the formation of the root system, the deployment of flower buds and the formation of side branches, it further comprises of an extract of seaweed and substances with wetting properties.
RECOMMENDED DOSAGE:
Young plants:
From 0,3 to 0,6 l/ha depending on the density of vegetation, generally 0,5 l/ha.
Regeneration after the winter:
Cereals from 0,25 to 0,5 l/ha, other crops from 0,35 to 0,6 l/ha.
Regeneration after damages during all phases: 0,5 to 0,75 l/ha.
EFFECTS:
supports the growth, especially of young plants,
supports the growth of the primary root, the branching of the root system and the formation of the fine root hairs,
induces the deployment of flowers, buds and side branches,
increases the resistance to biotic stresses,
increases the resistance against abiotic stresses – coldness, droughts, salinity, waterlogging,
regenerates the vegetation after mechanical or chemical damage,
supports the formation of chlorophyll,
increases the tolerance towards diseases,
if applied on cereals at the end of tillering, it will eliminate unproductive offshoots, and so level out the vegetation.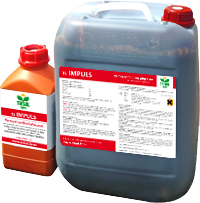 ---