TS SILVA
with curative component of silver
PRODUCTS CHARACTERICTICS:
TS SILVA is designed primarily to support the growth and development of plants, field crops and forest plantations during the entire vegetation, where it would be advantageous to use the healthy effect of silver in the possible aspect of a plant infestation. The presence of sugar and humic components supplies the plants with energy, necessary for their growth, the amino acid content supplies the plants with basic building materials. The presence of substances against stress and an extract of seaweed reduces the potential negative environmental effects.
CHEMICAL AND PHYSICAL CHARACTERISTICS:
| | |
| --- | --- |
| Dry matter v % min. | 45 |
| Flammable substances in dry matter in % min. | 50 |
| Humic substances and their salts (chemical compound) in % min. | 3 |
| Amino acids in % min. | 3 |
| PH - value | 7 - 9 |
TS SILVA also comprises of natural sugars and their bound micronutrients, an extract of seaweed, Ag silver for supporting a curative effect. The preparation contains adaptogenic substances. The composition comprises of N nitrogen and S sulphur bound to amino acids, P phosphorus, K potassium and trace elements as part of the sugar components of the product.
RECOMMENDED DOSAGE:
During the period of the main growth 0,2 – 0,3 l per hectare, depending on the condition and density of the vegetation. Generally 0,25 l per hectare.
EFFECTS:
increases the tolerance threshold against diseases,
increases the resistance against stresses,
supplies the plants with the necessary energy,
supports the growth and development of plants,
during a joint application with a fungicide it enhances the effect of the fungicide.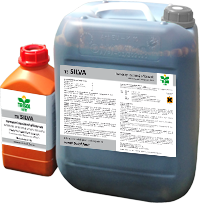 ---