TS OSIVO
for a quick start and vitality
PRODUCTS CHARACTERICTICS:
TS OSIVO is primarily intended for an administration on seed corn in a combined application with dressing or a separate / standalone application. The presence of amino acids, humic substances and other components supplies the germinating plants with energy needed for their initial growth and provides the basic building materials.
CHEMICAL AND PHYSICAL CHARACTERISTICS:
| | |
| --- | --- |
| Dry matter v % min. | 30 |
| Flammable substances in dry matter in % min. | 50 |
| Humic substances and their salts (chemical compound) in % min. | 7 |
| Amino acids in % min. | 10 |
| PH - value | 8-10 |
TS OSIVO further comprises of NPK (nitrogen, phosphor, potassium) bound to amino acids, urea N nitrogen, an extract made out of seaweed, B boron, Mo molybdenum, Fe iron in chelate form, Mg magnesium, Zn zinc, Mn manganese and Cu copper in the form of sulphates, adaptogenic substances and ingredients with a wettable and sticky effect.
RECOMMENDED DOSAGE:
Use together with the seed corn in form of dressing or soaking, generally 0,1 l on the quantity of the seed corn per 1 ha of the seeded area. The usual dosage for cereals (wheat, barley, rye) is 0,5 l per 1 ton of seed corn.
EFFECTS:
strengthens germination energy,
supports the germination,
stimulates the root growth and the formation of fine root hair,
supports the synthesis of chlorophyll,
supports the metabolism,
accelerates the formation and growth of the aboveground (aerial) parts.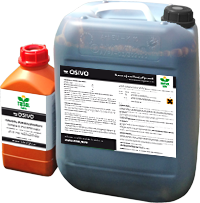 ---